Benoit, Florian <-> Florian, Benoit!
Hi guys! Please could you introduce each other in a few words?
Florian: Benoit used to be a history teacher. He loved the teaching and education side, but wasn't a big fan of the homework and head teachers. Following on from the success of his game Welcome To, he joined the world of board games full time. As a designer, project manager at Blue Cocker, and chairman of the French Game Designers Union (Société des Auteurs de Jeux, SAJ), there are a lot of hats for that big head of his! He has since surrounded himself with the very best to create new games, including Prehistories, Number Drop and Stomp the Plank.
Benoit: Florian used to be a special needs teacher. Besides the bike rides, he loved supporting the students who needed it most. The success of his games After Us and Stomp the Plank gave him the chance to – finally – team up full time with his favorite board game co-designer. He's a designer through and through, and already has way too many ideas in that big head of his! That's why he needed someone experienced to help him create new games like The A.R.T. Project…
Benoit, what's it like working with Florian?
It's great, to be fair. In terms of game design, we complement each other pretty well. Whether it's one of my projects or one of his, we're always able to make good progress with the games – most of the time. We get on well and we often share a similar routine, which certainly helps. The main thing is, though, we're on the same wavelength. Because not only does Flo know what I'm going to say for the next question, I already know he's stopped listening to me because he's had an idea…
Florian, how does it feel to know exactly what Benoit is going to say to the previous question?
Sorry, I wasn't listening, I'd just had an idea…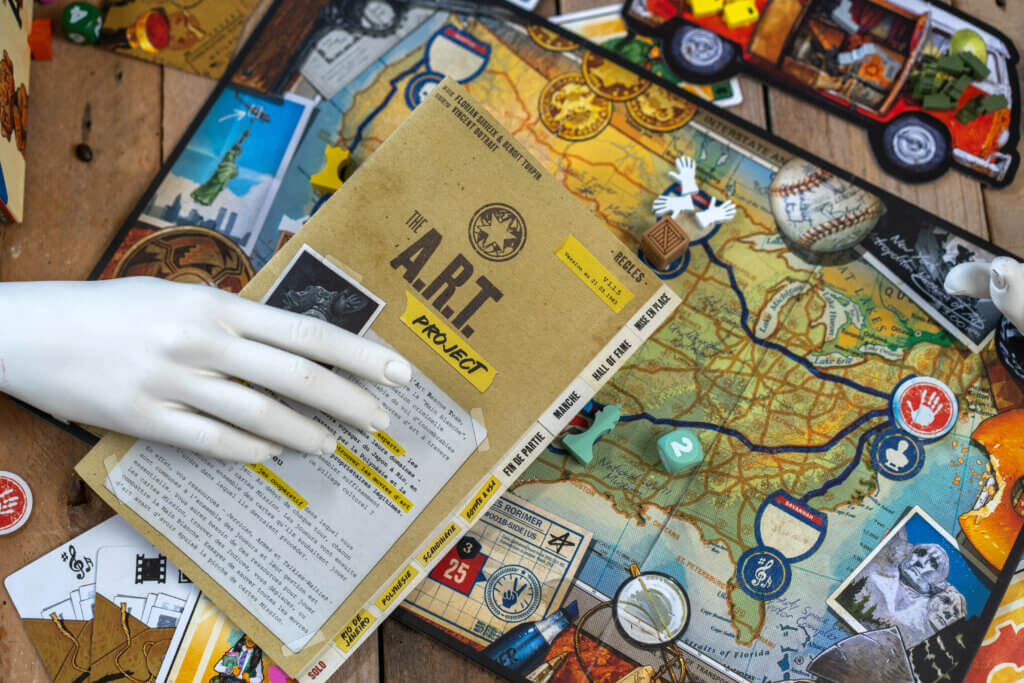 Seriously, though, we do actually need to do some promo! How did you come up with the idea of "cooperative mechanics, where communication is key"?
Flo: I wanted to work on a mix of mechanics which, as far as I was aware, didn't exist: the cooperative drafting. So, I introduced the concept of cooperative resource management as a restriction for the players. The game quickly evolved from Dungeon Draft – where you share weapon cards to battle monsters – to Egyptian Tales – where you set off on missions to loot the tombs of pharaohs. That's when Benoit joined me on the game and we developed it, but always keeping in mind the key concept of cooperative resource management. Benoit came up with the idea of alternative cards and set about making those. Amazingly, the base card, Egypt, became Japan! So, we ended up with The A.R.T. Project, without the drafting mechanic. But I may keep that up my sleeve for a future game.
Benoit: When Flo got me to test Dungeon Draft and then Egyptian Tales, I liked the concept straight away. This idea of cooperative resource management with central communication worked really well. I just thought it was missing something tangible and some board-based action. So, the first thing we did together was move the card battles to the board, with the enemies appearing there. This transformed the player experience pretty radically and made it more immersive, without altering the essence of the game. On the back of that, I worked hard on developing the all-important 'replayability', by creating different gameplay scenarios with a slight mechanical twist.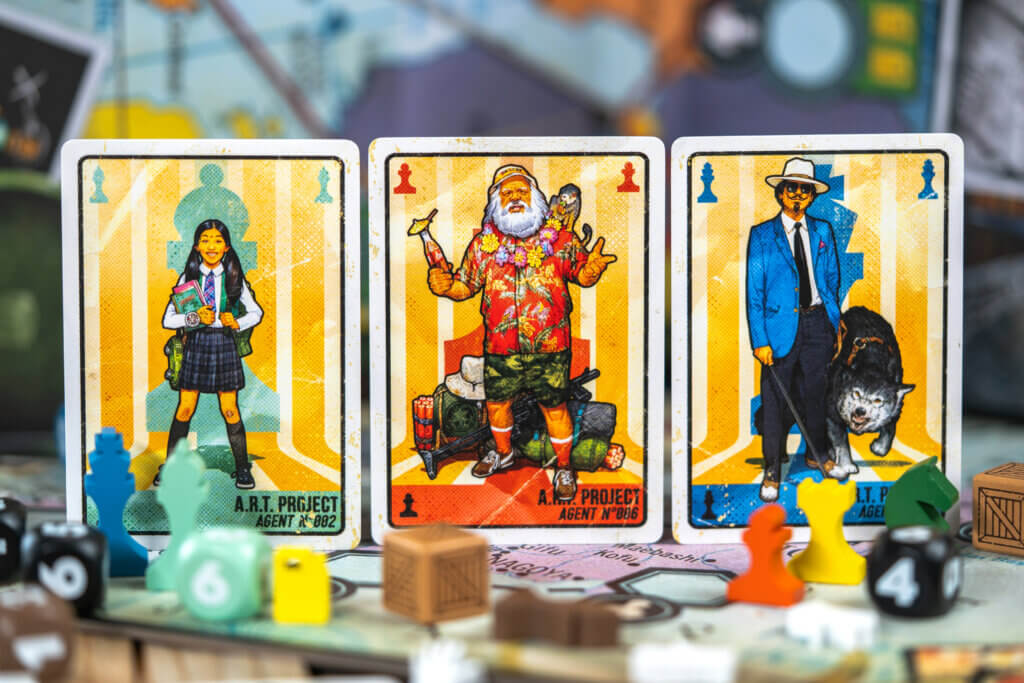 Was a strong theme essential for a game like this?
No, a theme is rarely essential in our work, particularly in Europe. The mechanics are the heart of the game; this is a cooperative resource management game and it's the communication that is essential. We could've used a theme of goblins trying to retrieve treasures from their dwarven enemies in a mine, that would've worked too (ed. this was Flo's preferred theme in his initial prototypes).
That said, in many ways a theme is important, even in 'euro games'. Firstly, it provides loads of ideas in the game design phase. Going from an 'Indiana Jones' theme to 'The A-Team' took us off at different tangents, in terms of battles and movements, etc. Then, in the editing phase, having a logical and consistent theme also helps you define the rules more easily and more thematically, provided you've managed to successfully combine the mechanics with the theme when writing the rules.
Finally, from a marketing perspective, you need a central theme supported by illustrations, and Vincent Dutrait's illustrations are incredible. This helps you create a universe in which players can picture themselves, making your game stand out from all the others.
So, no but yes… 😉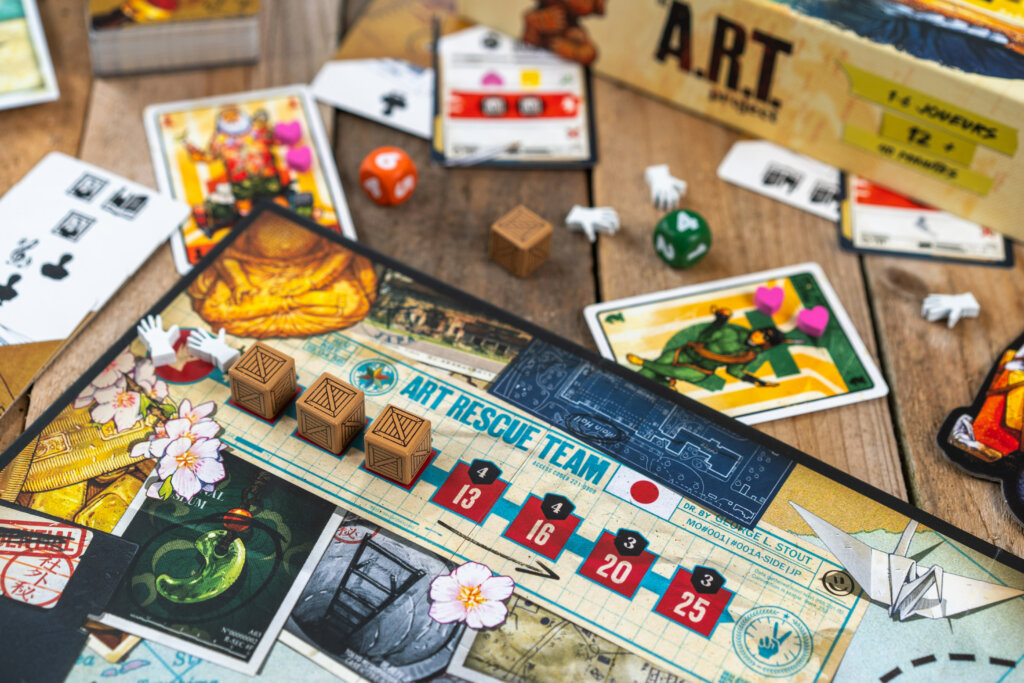 Do you remember one defining moment where everything came together during development?
Benoit: It was when Flo wasn't listening to me…
In truth, there were probably 3 key moments in the history of the game: Flo coming up with the concept, the overhaul and 'switch to the board' when I joined the project, and a light bulb moment with our publisher, Antoine, during development. During one working session, we realized he wasn't playing to the same rules as us, namely with how the turns were organized. As this involved a major change to the game's accessibility, we spent a lot of time testing to check all the implications. In the end, we went with it because it made the game more dynamic and easier to play, without compromising its essence. So, it just goes to show that misunderstanding the rules can sometimes turn out all right…
Finally, let's allow our imaginations to run wild. If you had to come up with a follow-up to The A.R.T. Project here and now, what would it be?
Flo: No idea! Before thinking about a follow-up game, I'd like to hear feedback from the players first, to understand what they liked and what was missing from their experience of the game… I think we could design new boards quite easily, but that may not necessarily be what players are looking for. To be continued…
Benoit: The thing is with The A.R.T. Project, having taken the time to create 6 different scenarios, we've already explored the game design space quite comprehensively. We wanted to be generous with what the game offered and provide different experiences within the same system. So, as it stands, it's hard to think of a follow-up to The A.R.T. Project, at least from a mechanical point of view. Although there's nothing stopping us expanding the story further, to a White Hand revenge mission or a salvage operation by the Art Rescue Team; a sort of 'close-up' with completely different mechanics. And Flo's already stopped listening to me… come back to us in 2 years… 😉
---
RELEASE ON OCTOBER 13, 2023 – Preorders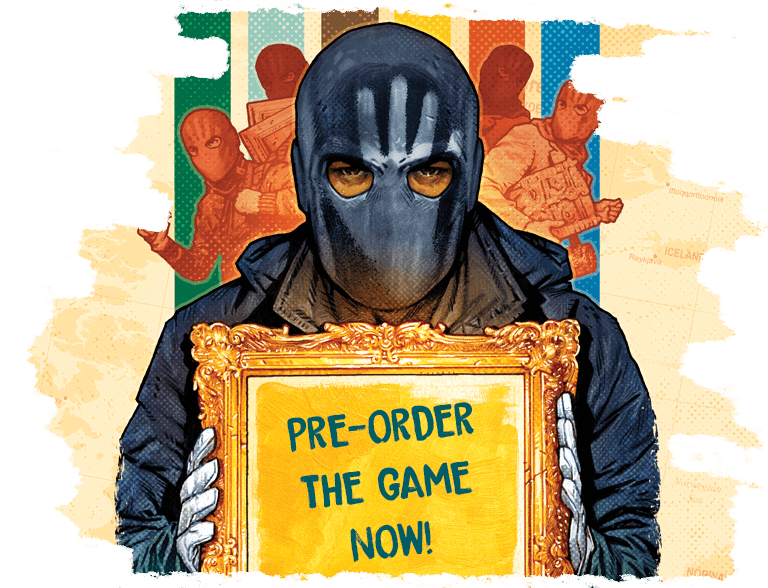 If you go to the Spiel in Essen, you can pre-order the game on our distributor's website by clicking on this link (https://site-export.blackrockgames.fr/export/preorders-essen). You will have the chance to be one of the very first and first to own the game. 🙂 If you don't go there, the game comes out on October 13th!