---

Dear all of you ! Welcome to a confined space…
First of all, we hope that this post finds you and your dear ones in good health! Lockdown has been announced last week (in France). Well. With that comes a (big) batch of "unforeseen things" that have to turn into "planned ones". Well. [Coffee!] We'll have to lock ourselves up at home for a while… [Down the coffee, we'll get a beer…] Anyway, for a publisher of our size (read "small"), working at home, this doesn't really change our lives BUT leaving the backpack in the closet… No way! [Anything stronger than beer?]
Then, YAUTMAN and EL CHOUCAS knock at the door! The snow falls, the wind blows, we might almost see Michel Blanc and Thierry Lhermitte, smiles to the ears, and their signature song in our heads. "Quand te revéééraiii-jeuuuuh…." [Editor's note: famous French winter movie]
Oh wake up… Knock Knock Knock "Hey, we've got something for you!"
I can guess what you're thinking but, no no no no…They won't come to your house! >>> THE VIRUS <<< …but? !!!
As this good fellow above, frustrated to have been forced to cancel his ski trip, we suggest you to go on a Sanitary Trek, indoors!
Go on a TREK, indoors where BONUSES and MALUSES will represent the safety precautions to be adopted for scoring a maximum of points. BUT BE CAREFUL, don't let the Virus-Who-Must-Not-Be-Named in!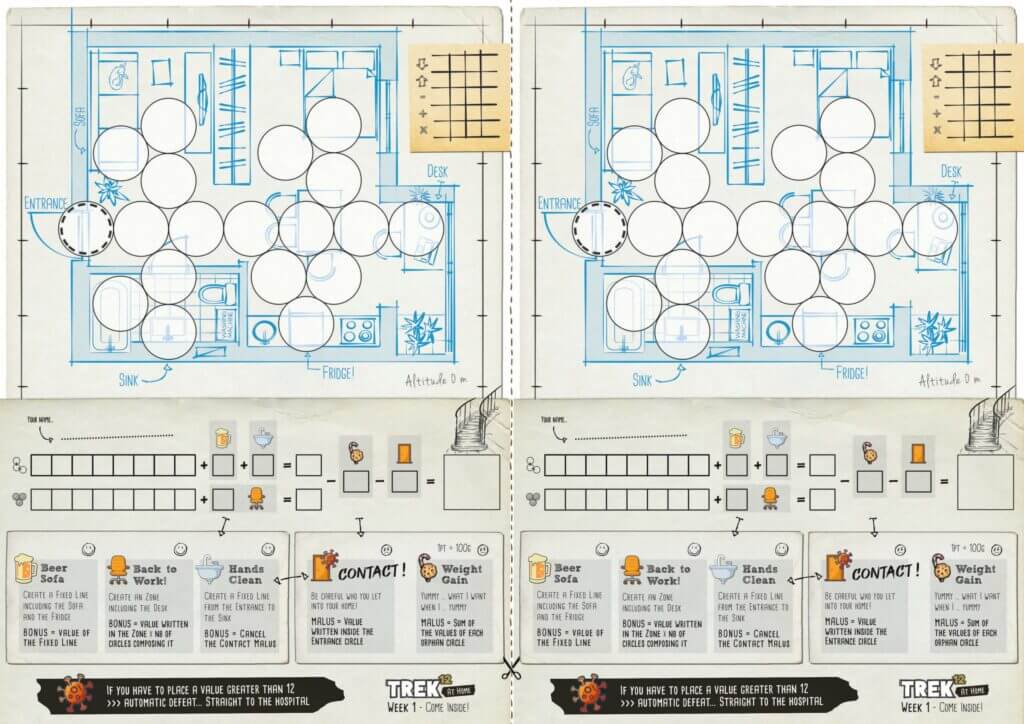 TREK 12 at Home, what's that?
It's a new game mode, in Print and Play, FREE and IMAGINED by the authors Bruno and Corentin!
You will be able to use it in a multiplayer or solo game. See the printable cards below.

Forget about High Mountain Bonuses and Maluses! New objectives await you. (Needless to say, those Bonuses and Malus are exclusive to this special card. Right? All the other rules of Trek 12 still apply) As usual, you may start in the circle of your choice.

Face JiMINy in Free Solo.You and your own mind!

A Cookie 🍪 challenge to be made between friends to find who, throughout all your games (in Multi or Solo), will gain the most weight during lockdown!
IN A NUTSHELL: the way you choose your results and fill out your card does not change. You will still need to make "Fixed Lines" and "Zones". The victory points associated with these Fixed Lines paths and Zones do not change. The changes concern the BONUSES!
Will you succeed in enjoying a nice NETFLIX session by creating a line from the fridge to the sofa? ('cause a good TV show with a cold beer is nice)
Will you be efficient working from home by creating a zone that includes your desk? Will observing the safety precautions allow you to limit the risks of contamination? (Basically… do you wash your hands well when you come home?) Will you be able to limit your weight gain (by avoiding orphan circles)?
Last but not least… be extra cautious as placing a value higher than 12 would send you straight to the hospital. And you would lose the game without even counting the score.
The core game TREK 12 – Himalaya is required to play with this free expansion.
Click on the download links below to access the cards.